INGREDIENTS MATTER
Learn more about the core of what makes Lucid unique.
LET'S TALK ABOUT SHROOMS
While our mushrooms might make you feel magical, they aren't psychedelic. They're called functional mushrooms (also referred to as medicinal mushrooms). They contain compounds like beta-glucans, triterpenes and triterpenoids that offer significant health impacts. They've been around for eons, much longer than we've even been around. In fact, humans and mushrooms are more closely related than plants from an evolutionary standpoint, we are cosmic ancestors. For thousands of years, functional mushrooms have been consumed in Eastern medicine for beyond essential nutrients, but only recently have they been recognized in the West for their powerful impact on our health. More excitingly, all of this has been backed by vast amounts of scientific research and studies.
Our Mushroom Stack
Each dose contains 2000mg of mushrooms that are made from fruited bodies, 100% certified organic, and processed in GMP certified facilities.
LION'S MANE
The mushroom for the mind. Research shows that it contains compounds that may improve cognition, activate nerve growth, reduce mild symptoms of anxiety and have anti-inflammatory properties.
TREMELLA
Known as the "beauty mushroom" for its moisturizing properties & anti-aging effects on skin & skin cell growth, and repairing & preventing premature skin aging by keeping skin hydrated & supple.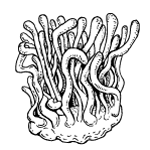 CORDYCEPS
Known as the athlete's best friend. Research shows its ability to increase endurance, performance and improve heart health. It's been used in Chinese Medicine to treat fatigue, kidney disease, and low sex drive.
MAITAKE
Discovered 2000 years ago in Japan, studies show its incredible health potentials, such as boosting immunity, cardiovascular health, lowering cholesterol & improving digestion.
Fruiting Body vs Mycelial Biomass
With the growing popularity of functional mushrooms, it's important to make sure that you're getting the highest quality possible. Unfortunately, many companies out there are selling mushroom products with filler. Look out for "Mycelial Biomass" (a combination of mycelium and grain), which isn't actual fruited mushrooms. What does this mean? Mycelium is a precursor to mushroom growth, it's the network of white fibers that grow onto substrate such as blocks of grain. These blocks of mycelium are tossed into a blending machine, then sold as "mushrooms". Always read the label!
Our Lucid mushroom stack is made with 100% USDA certified organic, fruited body mushrooms, that are hot water extracted (meaning both extracting and activating those health boosting compounds) so every sip you take delivers the goodness your body loves.
Additionally, any decent brand will clearly state the dosage of mushrooms you are getting in each serving. For us, it's 2000mg total If they fail to provide this information, they are most likely hiding it for a reason!
UNLOCK THE POWER OF YOUR MIND
Nootropics, or "smart drugs," are a class of substances that can boost brain performance. They are sometimes called cognition enhancers or memory enhancing substances. Our nootropics stack is designed to work harmoniously with our mushroom stack, bringing a full spectrum of benefits to your body and mind.
Our Nootropics Stack
Our nootropics are sourced carefully and processed using GMP manufacturing standards.

ALPHA-GPC
A powerful nootropic compound that has been shown to enhance cognitive ability, improve focus, learning & memory. It can even boost athletic performance by improving muscle function and power output. 
L-THEANINE
An amino acid naturally found in tea leaves that aids in lowering stress levels, improving sleep & focus. It's popularity is due to its ability to relax you without causing drowsiness, especially when combined with caffeine. 

BCAA
Branched chain amino acids, essential amino acids that are used as sources of muscle energy. They can promote muscle protein synthesis and suppress the production of lactic acid.
L-TYROSINE
An amino acid that aids in the production of neurotransmitters that help nerve cells communicate and balance mood. It can also help in the function of organs responsible for making and regulating hormones.
GINKGO BILOBA
Derived from a unique ancient tree that's existed for 250 million years and popular in Chinese Medicine, that helps focus on improving circulation, has antioxidant properties, aids in neurogenesis.
How Do Others Stack Up with Lucid?
We focused on achieving a level of quality that is superior to anything else. This is why Lucid stands in a lane of it's own.